Fronius Symo Hybrid now compatible with BYD Battery-Box Premium HVM
Three-phase backup power supply for maximum self-sufficiency
The Fronius Symo Hybrid is now compatible with the new generation of battery storage solutions from BYD – the BYD Battery-Box Premium HVM. Together, these two products provide the perfect solution to maximise self-sufficiency: Should the power go out, three-phase loads, such as heat pumps, can continue to be powered using sustainable PV electricity, and the battery can be recharged as well.
No mains power? No problem!
The Fronius Symo Hybrid comes with Multi Flow Technology as standard, for maximum energy efficiency and self-sufficiency. This Multi Flow Technology enables parallel energy flows to the different loads, as well as into and out of the battery. It also means that, in the event of a power outage, the battery can be recharged using PV power.
Likewise, if there is no mains power available, three-phase loads can continue to be powered using the PV system or the battery. When the mains power is reconnected, the inverter will automatically switch back to using the mains supply.
Retrofitting made easy thanks to remote software updates
Existing PV systems using the Fronius Symo Hybrid can be easily upgraded to make them compatible with the BYD Battery-Box Premium HVM. The storage inverter software update is available to download from Solar.web and can be installed remotely, at any time and from any location.
When installing a new PV system with the Fronius Symo Hybrid and BYD Battery-Box Premium HVM, customers must ensure that the inverter has software version HM 1.16.6-1 or higher installed.
The following combinations are available:
BYD Battery-Box Premium

HVM 8.3
HVM 11.0
HVM 13.8
HVM 16.6
HVM 19.3
HVM 22.1
Fronius Symo Hybrid 3.0-5.0
✓
✓
✓
✓
✓
✓
Modular design for easy expansion and maximum capacity of up to 22.08 kWh
The new BYD battery has a modular design, which allows up to 8 HVM modules (each with a usable capacity of 2.76 kWh) to be combined. The Fronius Symo Hybrid and BYD Battery-Box Premium HVM combined therefore has a maximum capacity of 22.08 kWh and a maximum charging power of 6.54 kW.
The modular design also gives customers the flexibility to start with just a few modules and add more at a later date.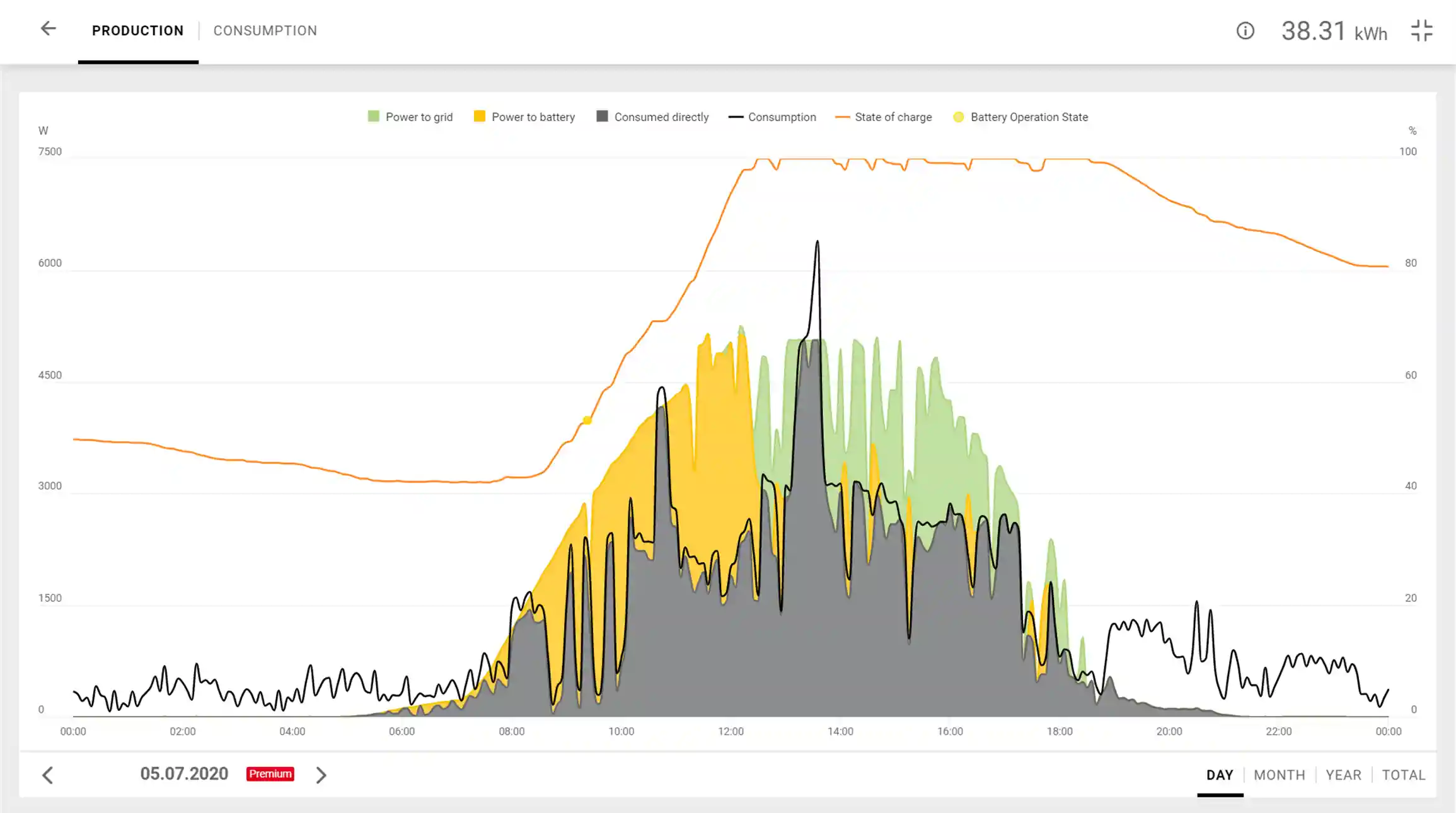 Battery status data available on Solar.web
If the PV system is registered with Fronius Solar.web, the battery state of charge will be clearly displayed on the platform, along with information such as power, battery status and load.
Click here to discover Fronius Solar.web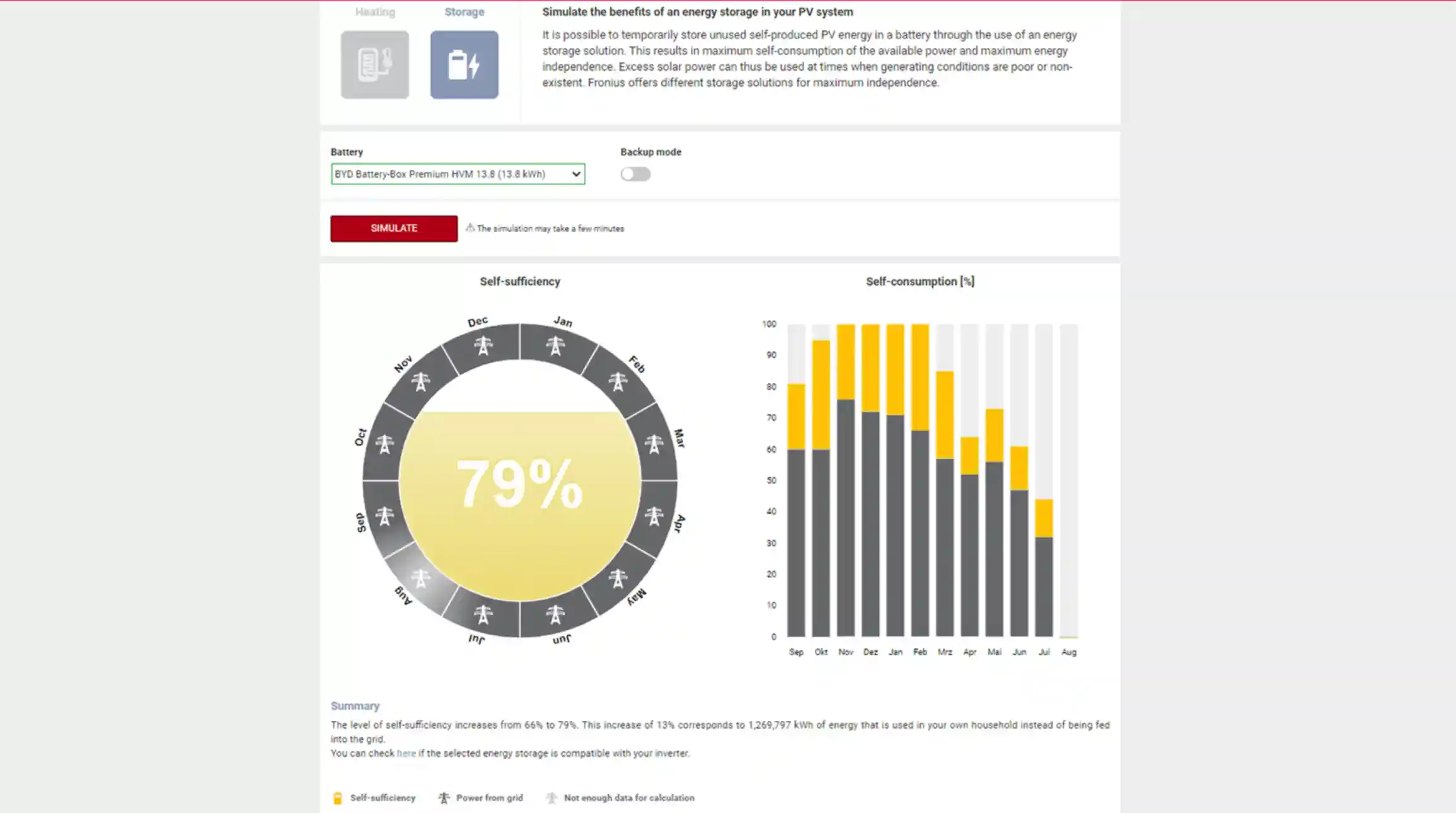 Battery storage simulation on Fronius Solar.web
Fronius Solar.web also provides a simulation option to test how adding a BYD Battery-Box Premium HVM will impact on an existing PV system.
With just one click, the simulation shows how changing the battery would alter the self-consumption levels for all PV systems (provided they have been registered on the platform for a month or more).